About this event
Laughing at your boss is normally a one way ticket to graveyard shifts and a pile of work Monday morning... But not with us. In this hilarious masterclass hosted by comedian Tyler Lemco, your team will go from 0 to 100 in creative writing and improvisation in our one hour version of The Office. Don't let your long distance work turn into a long distance hassle when trying to bring together your team. Instead, let Tyler build that connection by unlocking the hidden pleasure of laughing at yourself and your coworkers while also boosting on-the-spot thinking, humility, and sharpness.
Upon leaving the one hour session, your group can expect to have bonded over your younger self's mishaps while also having grown as creative writers from prompts used only by professional comedians. The majority of work is completed using improvisation to fit specific needs— Why wouldn't you have your team trained by a pro?
What to bring:
For this event no additional items are necessary to participate. Simply arrive to the video conference at your designated time and enjoy!
---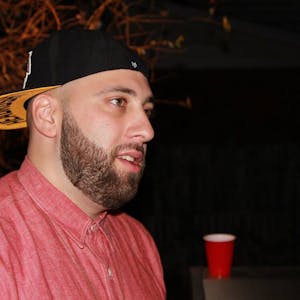 Tyler Lemco
Tyler Lemco is a writer, producer and artist from Montreal, Canada. He's an original member of the YouTube series Epic Meal Time, and has since worked as a contributing writer for websites such as Thrillist, AskMen, BroBible, Munchies, Playboy, Thump, CBS, and more. His work has been featured on Huffington Post, MSN, TMZ, The Tonight Show, BBC, Buzzfeed, and many others. He was also a candidate in the 2017 Montreal mayoral race, where he narrowly finished in last place.